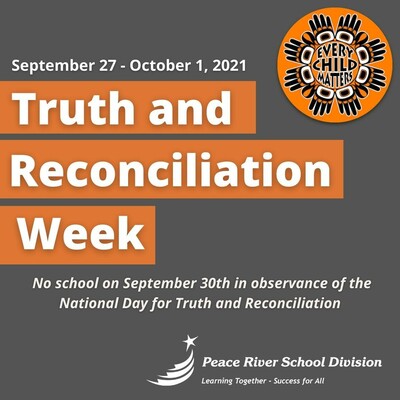 September 27 – October 1, 2021 is Truth and Reconciliation Week in Peace River School Division (PRSD) and we encourage our school communities to join us in this important week of observance by wearing orange during the week and by taking part in learning and local community events in support of Truth and Reconciliation.

In PRSD schools, activities planned include the sharing of books, videos and poems related to residential schools and Indigenous cultures. Many schools plan to begin each day by sharing O' Canada in Cree and including Truth and Reconciliation facts as a part of morning announcements. In classes throughout the week, students will be asked how they can contribute to the process of reconciliation. For example, last week, students at Fairview Jr Sr High School and Peace River High School learned more about Indigenous cultures and current issues such as missing and murdered Indigenous women in our communities, by helping prepare tobacco bundles for upcoming Sisters in Spirit Walk in Peace River and Sisters in Spirit Candlelight Vigil in Fairview.

In June, in response to the Truth and Reconciliation Call to Action #80, the Canadian government passed legislation to make September 30th a federal statutory holiday called the National Day for Truth and Reconciliation. The day is intended to recognize and honour residential school survivors, their families, and their communities. It also ensures that public commemoration of residential schools' tragic and painful history remains a vital component of the reconciliation process.

On September 16, 2021, the PRSD board of trustees voted to designate September 30, 2021 as a non-operational day and declared September 27 – October 1, 2021 as Truth and Reconciliation Week in PRSD schools.

"By dedicating a full week to Truth and Reconciliation, schools have the flexibility to select a minimum of one school day within the week to recognize Orange Shirt Day while students learn about the history and legacy of residential schools. Other learning activities that support Truth and Reconciliation will also be encouraged" says PRSD Board Chair Kuester.

Thank you to our Indigenous Education Program Coordinator, School-based Indigenous Education Leads, community Elders and knowledge-keepers for their passion and support to provide students with learning opportunities that support Truth and Reconciliation.
Posted on: Nov 21, 2022
Posted on: Nov 18, 2022
Posted on: Nov 4, 2022