PRSD Wellness Matters
Peace River School Division has a Wellness Committee that consists of management staff, principals, teachers, support staff, Youth Education Support Workers, Success Coaches, and School Health and Wellness, Health Promotion Facilitator from Alberta Health Services. 
PRSD believes that:
Wellness is for everyone. Wellness education promotes healthy habits that will last a lifetime and have positive impacts on students, staff and their families 
That wellness and learning go hand in hand
That wellness is a balance of active living, healthy eating, and positive social and emotional environments
That schools play an important role in developing lifelong healthy habits and education is a foundation of healthy lifestyles
Integrating and modeling wellness education is a vital component of school operations. In order for people to reach their full potential, they must be happy and healthy
School Nutrition Tips
Healthier Together Parent Resources
Linked below is access to monthly articles, informative websites regarding healthy development in children and virtual education sessions that offer practical advice for parents and caregivers of kids in elementary school (grades K-6) and teens in junior or senior high school (grades 7-12).
Canada Food Guide
School Physical Activity & Safety Resources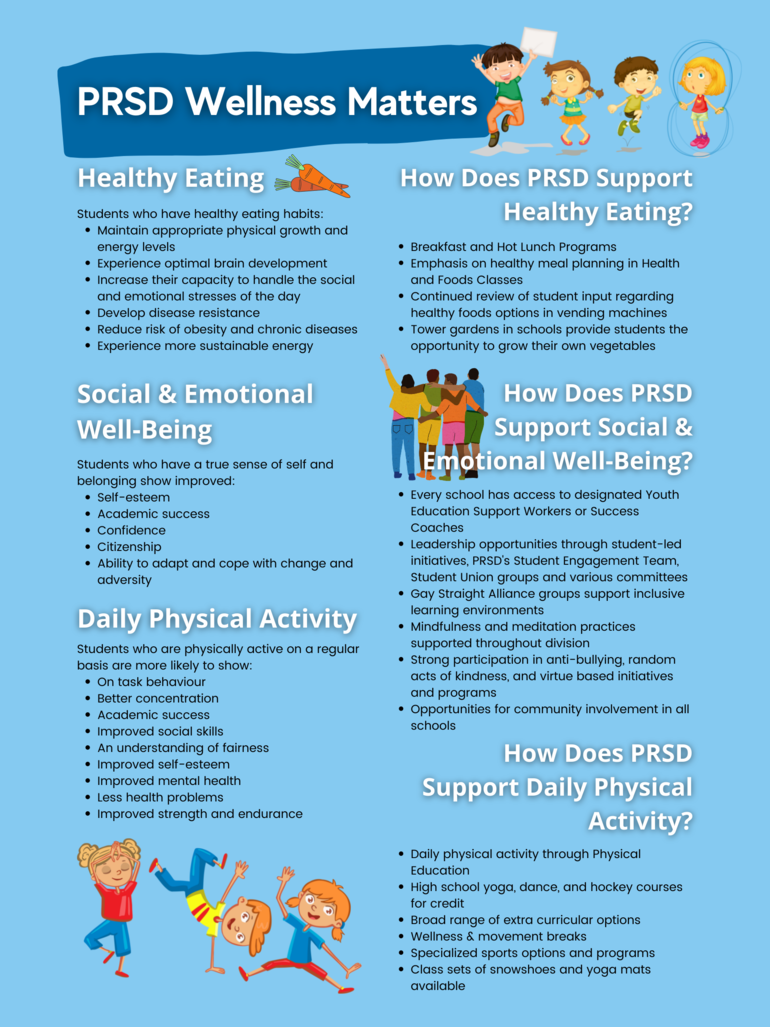 Brain Food Building Blocks Initiative with ONE Nutrition and Health
The Peace River School Division has teamed up with ONE Nutrition and Health to promote a new initiative called the Brain Food Building Blocks, which will educate students and parents alike about the connection between their brains and gut health.
The initiative is being launched in a series of cooking videos, which can be watched below. The premise is that anyone watching can bring their recipes to life, all while learning about specific ingredients and how they can nourish their bodies better.
The overall goal of the Brain Food Building Blocks initiative is to provide everyone in the Division with the tools they need in order to be successful in all areas of their lives. Viewers can expect simple, actionable ways to incorporate more nutrient dense, functional foods into their daily routines.
Brain Boost Smoothie
Quick Brain Quesadilla
Tex Mex Pita Pizza
Banana Pancakes