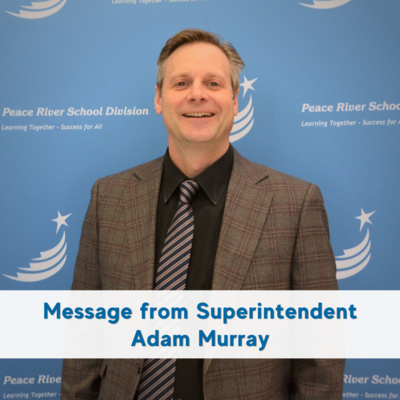 As we approach the end of the 2021-2022 school year, I would like to take this opportunity to thank our students, parents, staff, and community members for their contributions to education within our division. It has been an interesting year full of positive changes, forward movement, and consistent teamwork. We can't thank you enough for your dedication to PRSD!

To our students, your resiliency, adaptation, and devotion to your studies has been inspiring, and your hard work has been recognized by all. You have persevered and completed another year of your education, despite difficult circumstances, and we are extremely proud of you. You have made a positive impact within your schools, communities, and society.
I want to wish our graduates all the best in their future endeavors, as I know they will continue to make PRSD proud after graduation. I am very humbled by the countless examples of collective and personal accomplishments, growth, school, and community spirit demonstrated by them during this school year.
I would also like to extend a huge thank you to our parents, guardians, and family members for their outstanding involvement over the past 10 months. Watching you come together to provide support, encouragement and assistance to our students, staff and schools has been incredible. I recognize and appreciate the time, sacrifice, and efforts you have and are still making to PRSD.

To our staff, we couldn't have done this without you. Thank you. You continue to rise to the occasion in your dedication and flexibility in ensuring students are cared for. Your resiliency, creativity, and adaptability are greatly appreciated. The ways in which our staff throughout the division are collaborating and supporting one another is a true example of our mission statement, "Learning together, success for all."  Every role in the division has a direct impact on student learning and success and I am so grateful for the care and guidance that I see demonstrated every day within the division.

Thank you to our community members and organizations. We are very thankful for your contributions and participation in local education. Your involvement shows our students the importance of teamwork and community spirit – which are imperative attributes that will serve them all their lives. We are very appreciative of your time spent volunteering, providing input, advocating, and forming partnerships throughout our school division. Your support has made a world of difference.
Lastly, I would like to extend my deepest gratitude to all our school communities for their commitment to PRSD. You have played a substantial role in education and have positively impacted each and every person you have crossed paths with. I want to wish everyone a safe, fun, and fulfilling summer break ahead, and I look forward to seeing familiar faces in the fall! Thank you all for an incredible year!
Adam Murray
Superintendent of Schools
Posted on: Sep 22, 2022
Posted on: Sep 21, 2022
Posted on: Sep 20, 2022