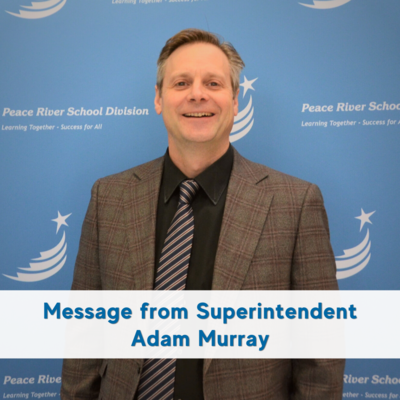 March 29, 2022 - To ensure the success of all students within the Peace River School Division (PRSD), we have created the Alternative Education Program that supports students and families through an adaptable, multi-faceted approach to education. At the forefront of this program, we have placed one of our most flexible educators, Saxon Butte, to facilitate and lead the Alternative Education Program.
With this program, more students are able to receive and access education in ways that break the traditional mode and support their specific learning styles. This allows them to experience more success within a dynamic setting.
The PRSD Alternative Education Program educates around 600 students throughout various programs and locations within the Peace River School Division and beyond. Available programs include Peace Home Learning Connections (parent directed education), Virtual Educational Program, Peace Regional Outreach Campus, Fairview and Area Learning Store and Hutterite Colony Programming.
For parent-directed home learning, the Peace Home Learning Connection allows parents to educate their children with support from the PRSD Home Education Coordinator, Golda David, and Marian Johnson-Higgins, the Home Education Facilitator.
PRSD has several geographically distanced, smaller schools with high school programs that have required a dynamic shift in practice to ensure students' success. The Virtual Education Program allows students to access high quality instruction for all necessary high school courses that are typically available in larger centers. This approach gives students a broader range of educational courses, resources, and specialized teaching to guarantee their graduation from high school.
To further support high school students, the Peace Regional Outreach Campus and Fairview and Area Learning Store offers flexible learning hours and high-quality instruction that accommodate students' family commitments, work schedules and any other needs they may have.
With these Alternative Education options, Peace River School Division truly is the first choice for students! Creating ways for ALL students to succeed is our top priority.



Adam Murray
Superintendent of Schools
Peace River School Division
Posted on: Nov 27, 2023
Posted on: Nov 24, 2023
Posted on: Nov 23, 2023