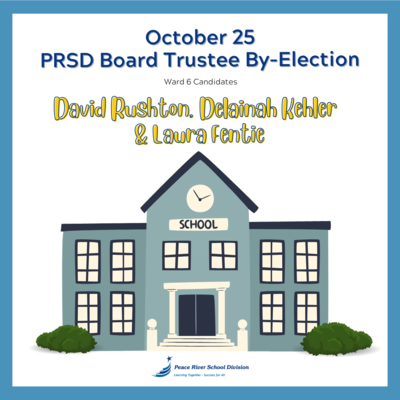 Following the close of nomination day on September 27, there are three candidates for the position of Peace River School Board Trustee in Ward 6.
The candidates are as follows, listed in no particular order: David Rushton, Delainah Kehler and Laura Fentie.
Residents of Ward 6 (Fairview, rural Fairview) are invited to come and vote on October 25 between 10 a.m and 8 p.m. at one of three locations: Hines Creek Composite School, E.E. Oliver Elementary School, or Fairview High School.
In order to vote, electors must produce two pieces of identification. At least one piece must be issued by a Canadian government, whether federal, provincial or local, or an agency of that government that contains a photograph of the elector, their name and current physical address. The other piece of ID can be a utility bill or tax assessment with the elector's name and address.
Click here for more detailed information about identification requirements.
We asked each candidate to answer three questions as part of the nomination process. Scroll down to learn a bit more about each of your Ward 6 candidates.
Your Ward 6 Candidates
Posted on: Nov 27, 2023
Posted on: Nov 24, 2023
Posted on: Nov 23, 2023