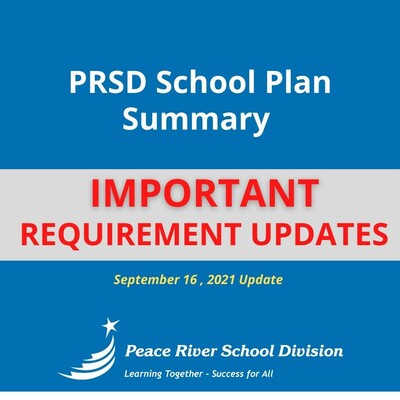 As per the Alberta Government's announcement on September 15, 2021 regarding newly mandated restrictions, this document has been updated with new information outlined in bold.

The Peace River School Division (PRSD) is committed to ensuring the safety and well-being of our students, and we thank our students, parents, staff and school communities for their patience and support as we start the new school year. Continuing learning will require everyone in the PRSD to continue to be nimble in contributing to the safety and success of our school communities.

All parents are required to screen their child for symptoms each day prior to their child attending school by using the Alberta Health Daily Checklist. Staff, parents and visitors are also required to screen for symptoms before attending any PRSD school or facility by using the Alberta Health Daily Checklist. If you or your child(ren) are not feeling well, please do not attend the school or PRSD facility.

Please be aware that the Peace River School Division will follow the guidance of Alberta Health Services (AHS) and the Alberta Education School Re-entry Plan. View the 2021-2022 Alberta Education School Year Plan here. The plan, along with other helpful COVID-19 Response information is posted on our website at prsd.ab.ca under "COVID-19 Response."

Should the nature of the pandemic change, PRSD will follow guidance from Alberta Health Services and Alberta Education. Alberta Education has developed contingency plans for schools to follow should things change and these plans are outlined in the Alberta Education 2021-2022 School Year Plan. Please note that any changes will be communicated to parents in a timely manner. Thank you again for your support, patience and understanding.

Cleaning and disinfecting procedures
● PRSD schools will continue to maintain enhanced cleaning measures.
● Additional disinfecting and cleaning measures will be implemented if there are elevated student and staff absences.
● PRSD will continue to work with students and staff to promote ongoing hand hygiene and respiratory etiquette. 
● Electrostatic disinfectant fogging machine used in every school two times per week.
● School buses are cleaned twice per day (after the morning and afternoon bus run).

Environmental Measures
• All facilities have a mechanical system that allows for air to be circulated and brings in fresh air from the outside. Fresh air is exchanged at the start of the school day and throughout the day to ensure a safe environment is maintained for students and staff.
• Mechanical systems are maintained on a regular basis, as per the manufacturers operating guidelines, to ensure they are functioning per specifications.
• To supplement our mechanical systems, it is beneficial to open classroom windows to assist in ventilation and fresh air exchange, weather permitting.

Masks
• Masks are mandatory for all students in grades 4-12.
● Masks are strongly recommended for grades K-3 students.
● Masks are mandatory for all staff in the school.
● Masks are mandatory for all visitors to the school.
• Masks are mandatory for all students and all staff while riding the school bus.
• Masks will be worn by students, staff and anyone assisting those who have developed respiratory illness symptoms while at school.
• Masks are not mandatory for students while participating in physical activity or during outside recess time.
• Masks are required for all students and staff while singing.
               
Cohorting
● Class cohorting is required for all elementary schools (kindergarten to grade six).

Physical Distancing
● Physical distancing measures will be followed in all common areas.

School Activities
● Students are not required to mask or maintain two-metre physical distancing during a physical activity such as physical education.
● Indoor sports/performance/recreation/special interests for students are permitted with requirements for two-metre physical distancing, where possible.
● Large indoor gatherings are no longer permitted.
● There are no restrictions on outdoor activities.

Spectator Attendance
● To reduce the health risk of students, spectator attendance is not permitted at indoor sporting events.

Recess
● Schools will determine if staggered recess times are required.
● Masks are not required during outdoor recess time.

Parent and visitor access to schools
● Masks are mandatory for all visitors to the school.
● Parents and visitors must make prior arrangements before attending the school.
● All parents and visitors to the school must screen for symptoms as per the
Alberta Health Daily Checklist prior to attending the school, and must follow the school's sign-in procedures.

School facility rentals
● The rental of school facilities is cancelled until further notice.


Interschool busing
● Interschool busing services will continue.

Provincial Achievement Tests and Diploma Exams
● The administration of Provincial Achievement Tests will resume and be mandatory per normal practice.
● The administration of Diploma Exams will resume and be mandatory as per normal practice.                    
● Principals will ensure the focus on instructional time returns to normal to best position students and staff for academic success in all subject areas, and to support enhanced performance on Provincial Achievement Tests and Diploma Exams (which are both mandatory this year).    

Vaccination clinics in PRSD schools
● School principals will work with AHS to offer vaccination clinics in schools.
● Students aged 12 and older are eligible to receive the vaccination at school with the written consent of their parent or guardian.
● More information regarding vaccinations at schools will be provided to parents by their local school as the information is available.
Isolation and quarantine
● Individuals who test positive for COVID-19 are required by AHS to isolate for 10 days from when their symptoms started, or until their symptoms have improved, whichever is longer.
● AHS is no longer identifying or following up with individual close contacts, and quarantine for close contacts is no longer required.
● All Albertans, including those who may be told that they are close contact, are asked to monitor for symptoms and stay home and get tested if they are feeling unwell. 
● AHS will continue to manage outbreaks of respiratory illnesses in school settings, similar to the management of influenza or influenza-like illness.

Virtual Education and Home Education options
 ● PRSD offers virtual education programming for students in grades 1-12 led by dedicated and skilled virtual education teachers, support staff and PRSD's District Principal. Learn more here
● PRSD offers both teacher and parent-directed home education programming that is supported by PRSD's Home Education Coordinator and support staff. Learn more here.



Posted on: Nov 27, 2023
Posted on: Nov 24, 2023
Posted on: Nov 23, 2023