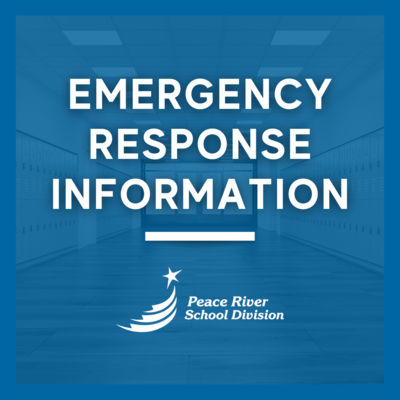 The Peace River School Division (PRSD), along with the Holy Family Catholic Regional Division (HFCRD), Town of Grimshaw, Mile Zero Regional Multiplex, Grimshaw Public School, Holy Family School, RCMP Constable, David Brown, and Grimshaw Fire Chief, Lawrence Arnold, have worked together to create Emergency Response documents and posters for all schools, parents, guardians, and the public to use. 
This collaboration was initiated during an After Action meeting that was held in response to a hold-and-secure situation that happened within Grimshaw last October. These documents were created as a way to improve future emergency response strategies within schools and educate students, staff, families and the public on what their roles are should an emergency occur within their schools and communities. 
Schools within each Division will be distributing an "Emergency Procedure Guide for Parents and Guardians", which will also be linked on PRSD's homepage, as well as displaying "Crisis Response Information" posters throughout their buildings, and providing their staff members with "Emergency Response Communications Workflow" charts to outline the proper communication procedures needed should an emergency happen within the school. 
PRSD schools will also be adding school safety definitions to their monthly newsletters as a way to get families and students familiar with terminology used in different emergency situations. 
Having this information readily available will ensure all students, staff, and families are prepared should an emergency occur. Understanding the proper procedures and terminology of different emergency situations will also reduce panic and increase the safety of all those involved. 
PRSD appreciates everyone's cooperation when it comes to keeping our schools and communities safe. If you have any questions about the safety procedure information, please contact your local school during school hours, or contact PRSD at 780-624-3601.
Posted on: Sep 28, 2023
Posted on: Sep 22, 2023
Posted on: Sep 21, 2023