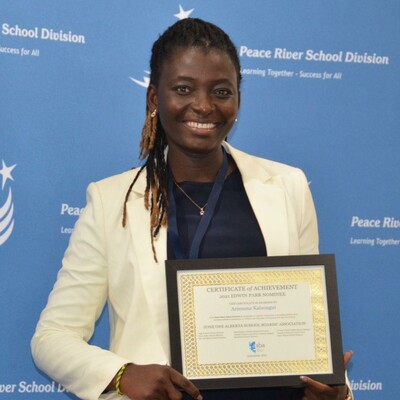 This afternoon (September 22, 2021), Arzouma Kalsongui, École Springfield  School (SES) educator was celebrated as PRSD's Edwin Parr Teacher Award nominee during the Alberta School Boards Association (ASBA) Zone One Fall Virtual Awards Banquet. Arzouma was recognized among teachers in Zone One nominated for the award that celebrates outstanding first year teachers.

"Arzouma's genuine concern for the social and emotional well-being of her students contributes to a warm and welcoming atmosphere in her classroom," states Elizabeth Green, former Principal of École Springfield School. "She spends countless hours after school and on weekends preparing lessons that are both exciting and imaginative; she always seeks ways to engage her students in learning and in speaking French, and it is easy to see the growth her students have had" Green added.

Arzouma is a graduate from the University of Alberta (Campus Saint-Jean) with a bachelor's degree in Education. Arzouma has also taken additional university courses focused on First Nations, Inuit history, treaties, residential schools, and legislation.   One of the things that brought her to Alberta was the opportunity to make connections with local indigenous culture. 

"The Social Studies curriculum in both grades one and two allows for opportunities to learn about the First Nations, Metis, and Inuit" says Arzouma. " I love the culture, it is similar to the African Culture, and I enjoy learning about it."

Arzouma currently teaches grade one French Immersion and is involved in several committees at SES, including the extracurricular sports committee, the cultural committee and the French Immersion committee.  

"Everyone at Springfield has been kind and supportive, and I enjoy collaborating with my coworkers." When asked what her favourite part of teaching is, she replied, "working with the students is my favourite part; they teach me many things as well, they have given me many ideas for extracurricular activities around the Peace Region."

Each year, the Alberta School Board Association (ASBA) honours outstanding first-year teachers representing six zones throughout the province. The award is named after teacher, and former president of the Alberta School Trustees' Association, Edwin Parr, who began recognizing teachers with an annual award prior to his passing in 1963. The award is intended to honour his memory and dedication to the profession.

"On behalf of the Peace River School Division Board of Trustees, we congratulate Arzouma as the 2021 Edwin Parr First Year Teacher Award nominee for the division," says Board Chair Darren Kuester.  "We are very proud of Arzouma's passion, enthusiasm and all she does to ensure students reach their full potential.  We are grateful for her service to students, and she is an important member of the Peace River School Division family."
Posted on: Oct 15, 2021
Posted on: Oct 15, 2021
Posted on: Oct 15, 2021