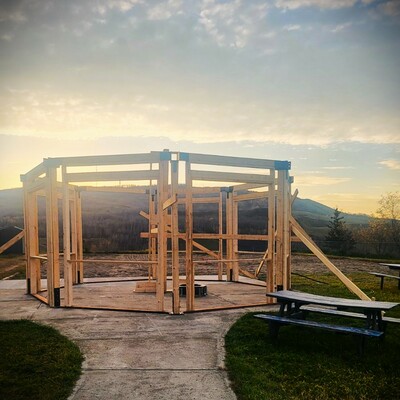 The construction of a covered, permanent restorative circle at Peace River High School is now underway. In early October the walls of the restorative circle were assembled on top of a newly expanded cement pad.
The project, which is funded through a portion of the PRSD budget allocated to support projects that further Truth and Reconciliation, will provide Peace High with a space designed specifically for their Indigenous students. 
"The feeling is that they are culturally underrepresented at the school," wrote Peace High Indigenous Coordinator Jonathan White in his grant proposal. 
When it is complete, the restorative circle will include benches and a removable fire pit. A timeline for the completion of the project is not yet defined.
While the space is designed for the Indigenous population at Peace High, the restorative circle will be a place were all students and staff can come together for the purpose of interaction, reflection and ceremony.
The restorative circle is located in a highly visible spot on the school property, which will allow all students the opportunity to learn about and/or participate in culturally relevant and ceremonial activities. 
Additionally, it was Mr. White's vision that the restorative circle may be used by other teachers and classes for a variety of curricular outcomes. He provided the example of outdoor education classes learning about fire safety and fire building techniques, foods classes learning about cooking over an open fire, and science classes studying combustion rates and the flammability of materials. 
Posted on: Nov 27, 2023
Posted on: Nov 24, 2023
Posted on: Nov 23, 2023