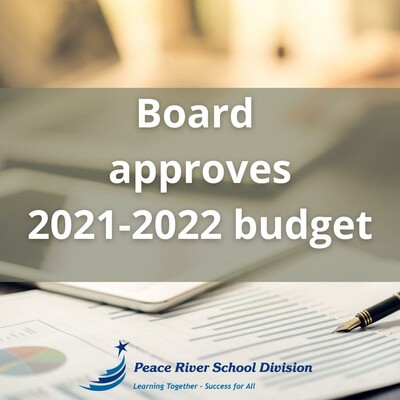 For immediate release
May 25, 2021- The Peace River School Division (PRSD) board of trustees approved the 2021-2022 budget at the regular board meeting held on May 20, 2021. The division approved the use of $1,337,978.00 in reserves to supplement the total budget of $52,184,450.00.

"The board elected to use reserves to continue to support priorities identified by the board during the budget process" says Board Chair Darren Kuester.

The board's priorities in the 2021-2022 budget include:       
Maintain the division level Coordinators to support the goals in the Education Plan;
Maintain as many supports in schools as possible to support the mental health and wellness of students;
Staff schools (Certificated and Support Staff) based on enrolment and student needs;
Transition Blended-Learning to Virtual-Learning to provide core high school programming to small high schools in the division;

PRSD's 2021-2022 budget will fund PRSD's focus on literacy, numeracy, Inclusive Education initiatives, services and supports for students with complex and special needs, mental health and wellness initiatives, technology integration and employee contract obligations. Operational dollars provide safe and caring learning environments through physical upgrades, maintenance on schools and safe transportation for students.  

PRSD encourages school communities to engage in conversations about educational funding through school council meetings, conversations with members of the legislative assembly and by advocating to the Alberta government.

"An important thing that students, families, staff and communities can do to support us is to advocate to local elected officials" says Kuester. "Staffing such as School Social Workers, Youth Education Support Workers, Success Coaches and our Family Liaison Worker are not funded by Alberta Education.  In order to provide these valuable services and supports to our students, families and staff, we are forced to used reserves, and using reserves is a short-term solution" says Kuester.

With the approval of the 2021-2022 budget, PRSD's operating reserve balance will be reduced to $2,580,017.00.
Posted on: Nov 21, 2022
Posted on: Nov 18, 2022
Posted on: Nov 4, 2022