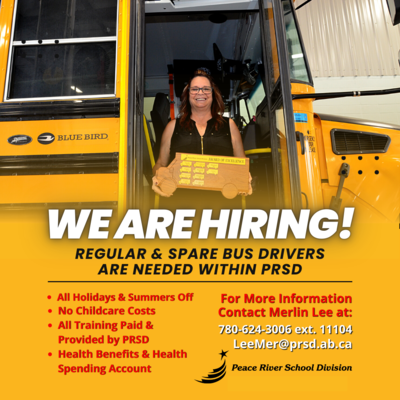 BECOME A BUS DRIVER TODAY!
We are currently seeking regular and spare bus drivers, especially within the areas of Peace River and Manning.
Due to a bus driver shortage, we are facing the possibility of having to cancel various routes within the Division, which we understand can have significant impacts on families and students.
Driving a school bus is great for parents with young children, shift workers, retirees, and anyone else who is looking for immediate employment.
Requirements include:
A Valid Class 5 License (without GDL)
Driver's Abstract
Ability to Pass Driver's Medical Required for Class 2 License
Apply today by contacting Merlin Lee, Transportation Manager, at 780-624-3006 or LeeMer@prsd.ab.ca or head to www.prsd.ab.ca/careers for more information.
Posted on: Sep 28, 2023
Posted on: Sep 22, 2023
Posted on: Sep 21, 2023