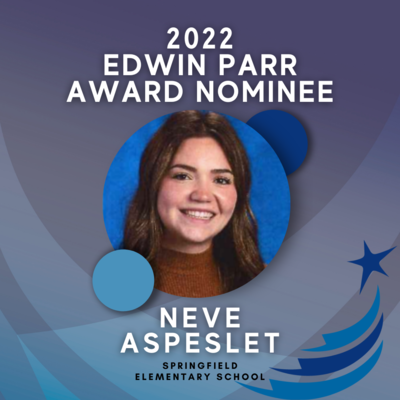 Each year, PRSD is proud to nominate a first-year teacher to receive the Edwin Parr Teacher Award sponsored by Alberta School Boards Association (ASBA).
This year we are extremely happy to nominate Neve Aspeslet from Springfield Elementary School!
Neve has created a classroom culture that is supportive, encouraging and caring for all her students. She has developed a space where all students champion for each other and are valued for their individuality and contributions to the class community. The relationships Neve has developed within her room has ultimately set students up for success.
Neve has also utilized technology to bring Indigenous cultural learnings into her classroom and she often integrates Cree language into her instructional time. She has participated in school wide cultural events such as National Truth and Reconciliation Day and Métis Week, while also implementing extension activities with her class.
Neve is known to add movement into her lessons to keep students focused and they are always eager to complete activities and assignments that she presents. Engagement during learning tasks is high as Neve is keenly aware of her students' individual needs and can differentiate expectations, activities and supports as required.
The relationships Neve has built with all members of the school community have been positive and inclusive. She often engages in collaborative discussions with colleagues and brings energy, enthusiasm, and professionalism into everything she does.  
The Edwin Parr Teacher Award has annually recognized excellent first-year teachers across Alberta since 1964 and is given to a teacher from ASBA's six zones each year.
Please join us in congratulating Neve on this amazing achievement!
We would also like to thank and recognize the other first-year teacher, Michelle Mousseau from Lloyd Garrison School, who was nominated for this prestigious award. Michelle has done an excellent job in her role this year and continues to positively impact those around her. Great work Michelle!
Posted on: May 24, 2022
Posted on: May 24, 2022
Posted on: May 12, 2022