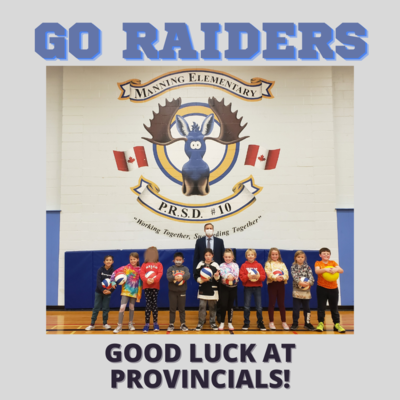 Superintendent Adam Murray visited the Manning Elementary School today and participated in a game of volleyball with the grade three class in recognition of the Paul Rowe Senior Boys Volleyball team scoring a spot to Provincials. The Paul Rowe Raiders will be playing from November 25-27 at the Peace River Baytex Energy Centre.
This is the first time since 2011 that Paul Rowe has been to Provincials in volleyball, and everyone within the division couldn't be more proud of them.
Their coach, Michael McGillivray, has been coaching at Paul Rowe for the past eight years and is ecstatic for his first opportunity to lead a team to Provincials.
"This feels really good," said McGillivray. "The boys told me at the beginning of the year that they were setting a goal to go to provincials, and they accomplished that."
Throughout the year the team played a handful of games in league volleyball, as well as in local tournaments such as the École Heritage tournament and the Peace Classic tournament, where they won consolation.
Securing a spot to Provincials is a major feat and Coach McGillivray is immensely proud of how the team has performed to get there.
"Their character has been amazing to watch, on and off the court. They're very enthusiastic and they're walking on cloud nine right now," said McGillivray.
Congratulations to everyone involved! Go Raiders!
*Follow along on our social media pages for updated pictures of the tournament and to stay up to date on how the Paul Rowe Boys perform.
Posted on: Nov 21, 2022
Posted on: Nov 18, 2022
Posted on: Nov 4, 2022