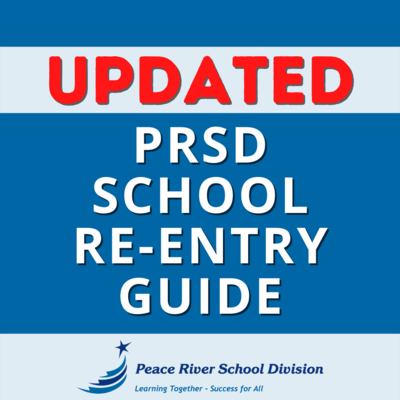 New guidance has been distributed and we are committed to keeping staff, parents and students updated and informed.
Distribution of rapid tests and masks is currently underway. Each student and staff should receive enough masks for a two seek supply, using two masks per school day for a total of 20 masks each.
Guidelines for repackaging, storing and distributing masks are available HERE. Please note that the document was originally developed for non-medical face masks, however the same guidelines are to be used for medical-grade masks.
For information on guidelines and checklists regarding in school learning and school bus transportation, please read the document HERE.
Self screening with the Alberta Health Daily Checklist is still highly encouraged and should be done on a daily basis by all staff, parents, and students. The updated Alberta Health Daily Checklist can be found HERE.
As always, the safety of students and staff remains our top priority as we continue to navigate the COVID-19 pandemic. We will continue to monitor the situation closely.
Posted on: May 24, 2022
Posted on: May 24, 2022
Posted on: May 12, 2022