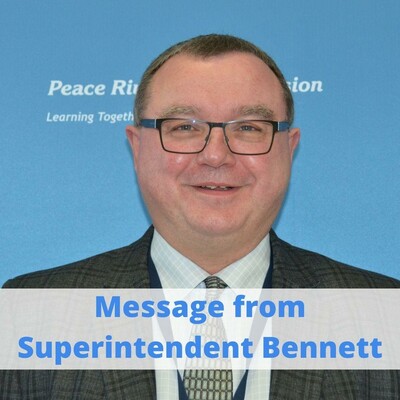 As we approach the end of the 2020-2021 school year, I would like to take this opportunity to thank you all for your contributions to education. It certainly has been an interesting and challenging year as we continually adjust to the changing landscape of the pandemic.

First and foremost I wish to thank our students. We recognize the uncertainty the pandemic brings to the lives of our students and you all deserve to be commended for your resiliency, adaptation, and dedication to your studies. To our graduates, we are very proud of each one of you and wish you all the best in your future endeavors. We know this is not the way you imagined graduation to be, and my heart goes out to you. To all our students, please know that the positive impact you have in your school, community and society is far-reaching and makes a difference. I am very humbled by the countless examples of collective and personal accomplishment, growth, school, and community spirit demonstrated this school year, especially during these challenging times.
Thank you to our parents, guardians and family members for your outstanding support and involvement. The way our families have rallied together to support learning at home, to provide child care, and to support one another is absolutely incredible. The COVID-19 pandemic has shown us what we can accomplish when we work together and our families deserve to be commended for their tireless efforts to support students learning at home. The pandemic has certainly caused a variety of stressors to our lives and for our parents who are already juggling many roles and responsibilities, thank you. I recognize and appreciate the time, sacrifice, coordination and effort you have and are all making.  

To our staff, thank you. You continue to rise to the occasion in your dedication and flexibility in ensuring students are supported whether that be at-home or in-person, and for so many of our staff, this means both. Your resiliency, creativity, dedication and adaptability are noticed and is very appreciated. It has been a learning curve for all of us and the ways in which our staff throughout the division are collaborating and supporting one another is a true example of our mission statement "Learning together, success for all."  Every role in the division has a direct impact on student learning and success and I am so grateful for the care, support and guidance that I see demonstrated every day in the division.

Thank you to our community members and organizations. We are very grateful for your involvement and participation in education. Your support and involvement shows our students the importance of teamwork and community spirit – very important attributes that will serve them for all of their lives. We are very thankful for your time spent volunteering, providing input, advocating, and forming partnerships throughout our school division that brings increased opportunities for students and increases community and school spirit. Your support is significant and very much appreciated.


In closing, I would like to extend my deepest appreciation to all our school communities for their commitment to the division over the years. As I move toward retirement starting at the end of August, I have been spending a lot of time reflecting and counting my blessings for the many relationships and partnerships formed over the years. I will miss you all and I wish you all a wonderful summer.
Posted on: Sep 28, 2023
Posted on: Sep 22, 2023
Posted on: Sep 21, 2023