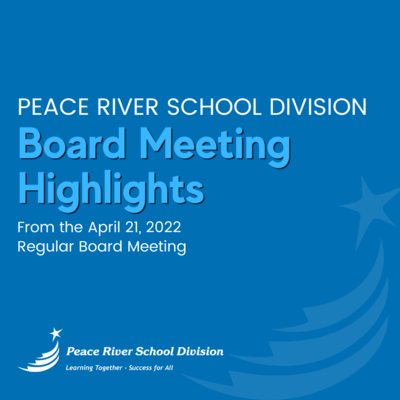 Fairview and Area Learning Store
The Board of Trustees discussed the operations of the Fairview and Area Learning Store and are committed to providing sustainable Outreach Programming for the future. Due to declining enrollment and increase in costs, the decision was made to move Fairview and Area Learning Store to the northwest corner of Fairview Jr/Sr High School. Renovations will be done over the summer to create a self-contained environment for the Fairview and Area Learning Store. With the new funding manual that started in the 2020/2021 school year, "Outreach Programs do not need to be located in an approved offsite facility," but can be housed within school buildings.
Change of June Board Meeting Date
The Board approved the June Board Meeting and Organizational Meeting on June 16th be changed to June 9th.
Edwin Parr Nominee
The Board approved the nomination of Peace River School Division's Neve Aspeslet, for the 2022 Edwin Parr Teacher Award. The Edwin Parr Teacher Award recognizes first year teachers that demonstrate exemplary dedication and commitment in the field of education. Each year, the Alberta School Board Association honours outstanding first-year teachers representing six zones throughout the province with this prestigious award.  
Long Service Awards
The Board approved the dates selected for the Long Service Awards within the Peace River School Division.
Nampa Public School
The Board is planning a collaboration meeting with stakeholders of Nampa Public School to discuss increasing viability of the school.
Departmental Presentation - Facilities
John Przybylski, Director of Support Services and Jon Ruether, Facilities Manager, provided the Board with a presentation on staffing updates of the PRSD Facilities employees, cleaning contract changes within the division, and current conditions and plans for teacher housing. They also discussed the Joint Use Agreements and Lease Agreements between PRSD Schools and local community groups, Capital Replacement and Renewal (CMR) and Infrastructure Maintenance and Renewal (IMR), as well as the updated PRSD Capital Plan projects. The floorplans and design for the new School Project Plan in Manning were presented and information was provided on how the building will be optimized for students and staff.
Student Engagement Presentation
Adam Murray, Superintendent of Schools, presented the Board with data and information collected from the Student Engagement sessions held on April 5th to prepare the Board for the Student Engagement sessions they will be conducting on April 26th.
Curriculum
Jessica Whelan, Literacy Program Coordinator and Matthew Clements, Numeracy Program Coordinator provided feedback to the Board about the Alberta curriculum being implemented in the 2022-2023 school year.
Policy 7 – Board Operations
The Board passed the third reading for Policy 7 – Board Operations.
Policy 10 – Board Committees
The Board passed the third reading for Policy 10 – Board Committees.
Posted on: May 24, 2022
Posted on: May 24, 2022
Posted on: May 12, 2022