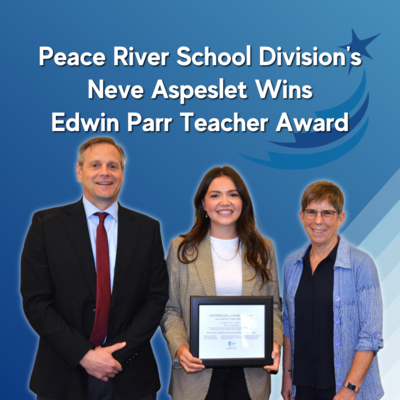 The Peace River School Division (PRSD) is incredibly proud to announce that Neve Aspeslet is the winning recipient of the Edwin Parr Teacher Award sponsored by the Alberta School Boards Association (ASBA)!
The Edwin Parr Teacher Award has annually recognized excellent first-year teachers across Alberta since 1964 and is given to a teacher from ASBA's six zones.
This is a monumental achievement, and PRSD couldn't be happier for Neve. Recognized for her dedication to student learning, Neve has gone above and beyond during her time as a teacher and this award is proof of that.
Neve spent her first year teaching at Springfield Elementary School, where she garnered a respectable reputation and made a lasting impression on her students. Creating a classroom culture that was built on support, encouragement and individuality, Neve developed a space where students were able to absolutely thrive in. 
Known for utilizing technology to bring Indigenous cultural learnings into her classroom, Neve often integrated Cree language into her instructional time. She also participated in school wide cultural events such as National Truth and Reconciliation Day and Métis Week, while also implementing extension activities within her class.
The relationships Neve built with all members of the school community have been positive and inclusive, and she has left a lasting impression on many. 
On behalf of everyone within the Peace River School Division, we would like to congratulate Neve on this incredible accomplishment! 
Posted on: Sep 22, 2022
Posted on: Sep 21, 2022
Posted on: Sep 20, 2022