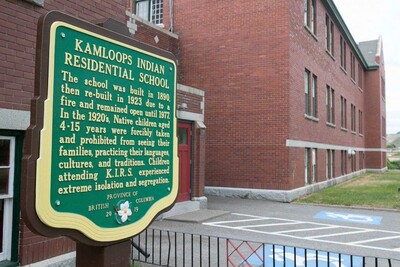 Peace River School Division (PRSD) extends our deepest condolences and sympathies to the Tk'emlúpsTeSecwépemc First Nation in Kamloops after the remains of 215 children were found at the former Kamloops Residential School. We know that this discovery of undocumented deaths reopens wounds felt by every individual who has been and continues to be affected by the horrific impact of residential schools. Residential schools forcefully removed Indigenous children from their families, robbed them of their culture, and exposed many of them to various types of inhumane abuse.

"We have residential school survivors in our communities and their children and grandchildren are working and learning in our schools today" says Superintendent Paul Bennett. "We deeply wish to show our support for the families of the school victims at Kamloops Residential School."

Upon hearing about the horrific discovery, Bennett shared that staff immediately began reaching out to him to plan ways to honor the children who died and to show their support for everyone impacted.

"Immediately following the release of the discovery of the children's remains at the former Kamloops Residential School, staff were reaching out wanting to find ways to honor the children, to do all we can to bring more awareness of the devastating impact of residential schools, and to honor indigenous culture and traditions" says Bennett.

PRSD schools have found a variety of ways to show their support by wearing orange, observing moments of silence and playing the national anthem in Cree.

"In addition to paying our respects and remembering the lives lost, we are trying hard to celebrate cultural teachings and values that residential schools tried to take away" says Bennett.

One of PRSD schools has invited a local Knowledge Keeper to share about how her family has been impacted by residential schools and to teach students about the value of the smudging ceremony as a way to seek healing.

All flags at PRSD schools and Central Operations have been lowered to half-mast to honor the children whose remains were found at the former residential school on Tk'emlúpsTeSecwépemc First Nation. The flags will remain lowered until June 9, 2021, signifying 215 hours, for the 215 lives lost. During the virtual Administrators' Association Meeting held today, staff observed 2 minutes and 15 seconds of silence in honour of the children and had a lengthy discussion regarding the tragedy and ways PRSD can support those impacted and honor Indigenous culture.

A National Indian Residential School Crisis Line has been set up to provide support for former Residential School students and those affected. You can access emotional and crisis referral services by calling 24-Hour National Crisis Line: 1-866-925-4419. Additional support is available through the Kids Help Phone: 1-800-668-6868. 
Posted on: Sep 28, 2023
Posted on: Sep 22, 2023
Posted on: Sep 21, 2023