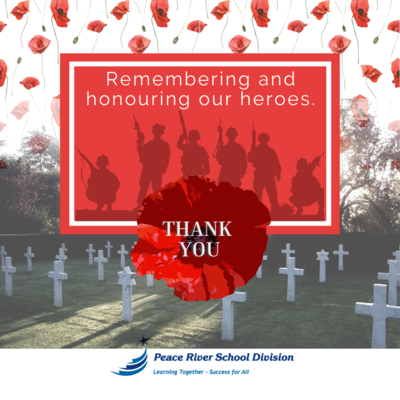 In recognition of Veterans' Week and Remembrance Day, Peace River School Division (PRSD) schools pay tribute to those who have served and are currently serving our country in the cause of freedom and peace. Many of the PRSD schools are including acknowledging the contributions of our Indigenous veterans as a part of Remembrance Day Ceremonies. Moments of silence, school ceremonies, classroom activities and student participation in essays and poems are ways that schools are recognizing Veterans' Week. 

Please note there is no school on Thursday, November 11, 2021 in honour of Remembrance Day and on Friday, November 12, 2021, a non-operational day. Classes resume on Monday, November 15, 2021.
PRSD thanks students, staff, parents and community members for their involvement in this very important week of remembrance. In-person school ceremonies will be conditional on Covid-19 measures that are in place at the time of the ceremonies. Unfortunately, we are not able to invite the public to the ceremonies.


Remembrance Day school ceremony schedule dates and times:
| | | | |
| --- | --- | --- | --- |
| Schools | Ceremonies/Assemblies | Date/s | Start Times |
| Bear Canyon Colony | School Assembly | Nov 10/2021 | 10:30 a.m. |
| Cleardale Colony | School Assembly | Nov 9/2021 | 2:00 p.m. |
| Dixonville School | School Assembly  | Nov 10/2021 | 10:45 a.m. |
| E.E. Oliver Elementary | Virtual Assembly (pre-taped video) | Nov 10/2021 | 10:45 a.m. |
| Fairview & Area LS | School Ceremony | Nov 10/2021 | 11:00 a.m. |
| Fairview High | School activities/slide presentation | Nov 8/2021 (all wk) | 10:19 a.m. |
| Grimshaw Public School | Virtual Ceremony | Nov 10/2021 | 10:00 a.m. |
| Hines Creek Composite | School Assembly  | Nov 10/2021 | 10:30 a.m. |
| Lloyd Garrison | Weeklong In-class activities  | Nov 10/2021 | 11:00 a.m. |
| Manning Elementary | Virtual Assembly | Nov 10/2021 | 11:00 a.m. |
| Menno Simons School | School Ceremony | Nov 10/2021 | 10:40 a.m. |
| Nampa Public | School Assembly | Nov 10/2021 | 10:50 a.m. |
| Paul Rowe Jr/Sr High | School Assembly  | Nov 10/2021 | 10:15 a.m. |
| PR Outreach Campus | Presentation for the students | Nov 10/2021 | TBD |
| Peace River High | Virtual Assembly | Nov 10/2021 | 10:15 a.m. |
| Red Earth Creek | Virtual Ceremony | Nov 10/2021 | 10:30 a.m. |
| Springfield Elementary | Virtual Assembly (student led) | Nov 10/2021 | 10:30 a.m. |
| T.A. Norris Middle School | Virtual Presentation – homerooms | Nov 10/2021 | 11:00 a.m. |
| Worsley Central | Lived streamed on Facebook | Nov 10/2021 | 10:10 a.m. |
Posted on: Nov 27, 2023
Posted on: Nov 24, 2023
Posted on: Nov 23, 2023