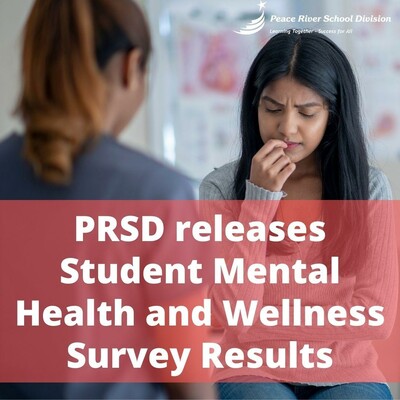 For immediate release
April 21, 2021 – Peace River School Division is pleased to share results from the Student Mental Health and Wellness Survey issued in early February 2021. The survey was administered to students in grades 7-12, all parents, and all staff with an overwhelming response. 77% of grades 7-12 students, 24% of parents and guardians, and 71% staff responded to the survey with over 1800 responses.

"The response to the survey has been incredible and we are very grateful to our school communities for their time and input" says Board Chair Darren Kuester. "It certainly speaks to the importance our students, families and staff place on student mental health and wellness, and it provides us with robust data to impact positive change" says Kuester.

In the survey, students were asked to list the top five issues they are facing. Test anxiety, pressure to succeed, fear of disappointing family, keeping up with demands in life, body issues and feeling unattractive are the most common top five issues for students in grades 7-12. Students were also asked questions regarding how often they felt sad, depressed or alone, what they currently do for support, how they support others, what they do when they are falling behind in school, and how the pandemic has impacted them.  The survey also provided space for students to share anecdotal comments. The following comment comes from a student who completed the survey:

"This is a very big problem (student mental health) and there is no right solution but the effort being put in through this survey does give hope. So as a student of this school division, thank you."

In response to the survey, PRSD conducted an all-day meeting on April 13, 2021, with trustees, school administration, PRSD Social Workers, Youth Education Support Workers, Family Liaison Workers and PRSD management staff to discuss the results and begin developing strategies based on the survey data.

"There is a lot we can do internally to address some of the issues shared by students and some of the issues that cannot be addressed internally are areas that the board can advocate to the government for support" says Kuester.

The board of trustees directed management to set up meetings with elected officials to discuss the survey results and begin advocating that the government adequately fund the staffing and supports necessary to support student mental health and wellness. Currently, Social Workers, Youth Education Support Workers, Success Coaches and PRSD's Family Liaison Worker are not funded by the government. Another area of advocacy for the board is to request that the government fund medical services required for students with special needs in school. The government of Alberta discontinued funding for Alberta Health Services (AHS) to provide medical services for high need students in schools.

"It is crucial that the government provide AHS with the funding to allow trained medical staff to come in to our schools and administer medical services our students with special needs require" says Kuester. "This type of service should not be left on the shoulders of school staff."
Another notable point in the survey came from the parents. When they were asked where they go to first for help, 57% of our families indicated they come to the school.

"This is huge" says Kuester. "Government funding needs to increase to properly staff our schools to support the reality of this statistic. Currently the funding does not reflect the needs of our students and we know that other rural jurisdictions are in the same boat.  In order to learn, our students need to be happy and well and the survey also tells us that communities do not have the resources to provide the support our students and families need. Things need to change and the board is eager to work toward positive change."

PRSD is in the process of creating a formal plan to address concerns brought forth by students, parents and staff in the survey and the board is actively advocating during interactions with elected officials. Schools have also been provided their individual school results and plan to host focus groups and further conversations with students to dig deeper and ensure they are a part of the conversation.

"An important thing that students, families, staff and communities can do to support us is to advocate to local elected officials" says Kuester. "Nothing can change if we don't start talking about the importance of having mental health services and supports readily available for students and families."

View the Student Mental Health and Wellness Survey Report here.
Posted on: Sep 28, 2023
Posted on: Sep 22, 2023
Posted on: Sep 21, 2023