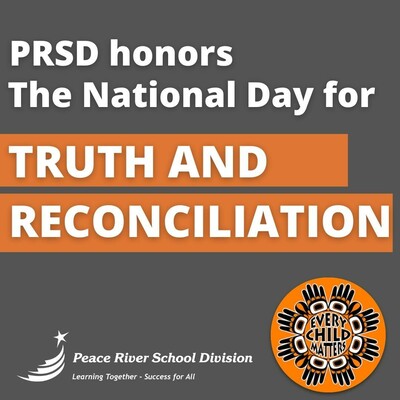 For immediate release
September 17, 2021 – During the board meeting held yesterday (September 16, 2021), the Peace River School Division (PRSD) board of trustees voted to designate September 30, 2021 as a non-operational day to demonstrate our commitment to the process of Truth and Reconciliation.  

In June, the Canadian government passed legislation to make September 30th a federal statutory holiday called the National Day for Truth and Reconciliation. The day is intended to recognize and honour residential school survivors, their families and their communities. It also ensures that public commemoration of residential schools' tragic and painful history remains a vital component of the reconciliation process.

During initial discussions, the PRSD board of trustees believed it would be best to have students learn about Truth and Reconciliation in school on September 30, 2021. However, upon hearing input from local Indigenous communities, the board moved to make it a non-operational day.  

"Initially, the board felt that having students in school on that day was important as we didn't want it to be taken as a 'holiday' or just another day off" explained Board Chair Darren Kuester. "We believed that by having students in school, we would be able to better ensure that the importance of this day is observed. But, after learning that members of our community believed we could best show our support for the national holiday by taking it as a day off school, we decided to explore this idea further."

PRSD consulted with various local Indigenous organizations, Elders and knowledge keepers and heard that the best way forward is to observe this day in the same way as any other national holiday.

"The national holiday was created in response to one of the Calls to Action of the Truth and Reconciliation Commission of Canada; therefore, it is vital that PRSD recognize the National Day for Truth and Reconciliation in the same way as any other national holiday" says Kuester.

During the board meeting, trustees also unanimously agreed to declare September 27 to October 1, 2021 as Truth and Reconciliation Week in PRSD schools.

"By dedicating a full week to Truth and Reconciliation, schools will have the flexibility to select a minimum of one school day within the week to recognize Orange Shirt Day while students learn about the history and legacy of residential schools. Other learning activities that support Truth and Reconciliation will also be encouraged" says Kuester.


Posted on: Sep 28, 2023
Posted on: Sep 22, 2023
Posted on: Sep 21, 2023