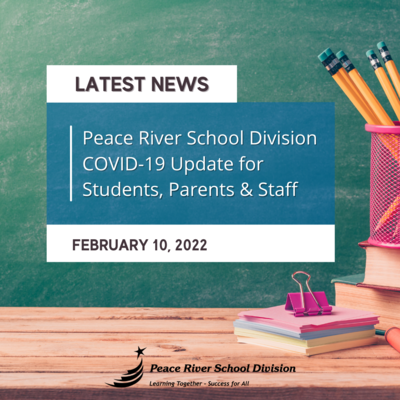 Alberta entered Step 1 on February 9. The following changes have come into effect at this time, unless otherwise stated.
Restrictions Exemption Program removed, along with most associated restrictions.
Capacity limits in large facilities and entertainment venues (500+) remain in place, but food and beverages now allowed in seats.
Capacity limits for locations not covered under the REP program are removed.
Information above taken from the Alberta Government Website
PRSD will continue to facilitate enhanced disinfecting and fogging within schools at this time, with current cleaning practices to stay in place.
Masking Information:
As of February 14, mandatory masking requirements removed for:

All students K-12 during school hours
All students K-12 while riding school buses
Students participating in school sports
Masks are still mandatory for:

All staff, bus drivers and adults within schools
Visitors & school sports spectators 13 and up
Students 13 and up on all field trips

Students who wish to continue to wear a mask during school hours will be supported
Spectators are now allowed at all school sports and events, but they must follow all masking requirements in schools
PRSD is still encouraging everyone to follow the COVID-19 Alberta Health Daily Checklist. Access the most recent version HERE.
Posted on: Sep 28, 2023
Posted on: Sep 22, 2023
Posted on: Sep 21, 2023