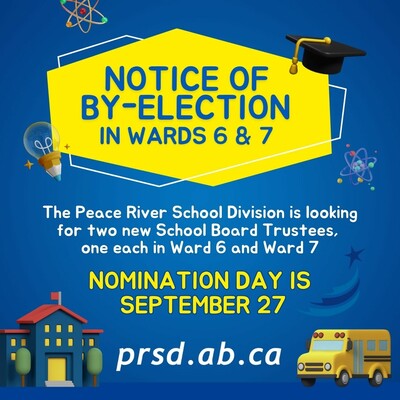 Nomination Information Package
Form 26 - Campaign Disclosure Statement
Link to Board of Trustees Policies
The Peace River School Division must hold a by-election to fill the vacant positions of School Board Trustee in Ward 6 (Fairview, rural Fairview) and Ward 7 (Hines Creek, rural Hines Creek, Worsley, Bear Canyon, Cleardale and Clear Hills area). 
Interested candidates can obtain a nomination information package by clicking the link below. Nomination packages are also available at local public schools in the Town of Fairview, Village of Hines Creek, Village of Worsley, at Menno Simons Community School, and at Central Operations in Grimshaw.
In addition to the nomination package, candidates must also complete a Campaign Disclosure Statement, which is linked above.
Posted on: Sep 28, 2023
Posted on: Sep 22, 2023
Posted on: Sep 21, 2023