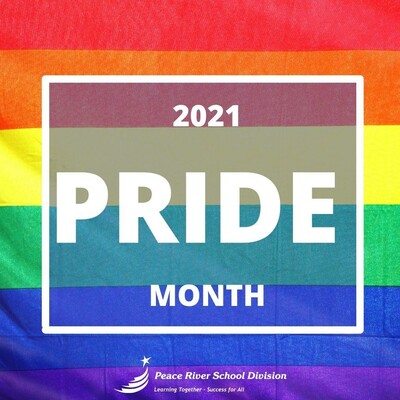 June is nationally recognized as Pride Month in Canada. It is a time when we stand together with 2SLGBTQ+ communities to celebrate acceptance, human rights and diversity.

In Peace River School Division (PRSD), it is very important that our schools and workplaces are inclusive environments where 2SLGBTQ+ staff, students, families and allies feel included, protected and respected.  Several PRSD students, parents, caregivers and community members identify as 2SLGBTQ+ and in support and respect for all our school communities, all PRSD schools and Central Operations will post a "Safe Space" poster in the main entrance of every building during the first week of June. The poster communicates that "This is a SAFE SPACE where human rights are respected. Lesbian, gay, bisexual, trans-identified and queer and questioning students, teachers, friends, families and allies are welcome and supported."

The SAFE SPACES initiative is the collective effort of the ATA, the Society for Safe and Caring Schools and Communities and the Institute for Sexual Minority Studies and Services. The initiative provides supports to teachers and other members of school communities in their efforts to create safe, caring and inclusive spaces for 2SLGBTQ2+ students and teachers, as well as their families. There are a number of resources that PRSD has ordered from the SAFE SPACES initiative and will distribute and have readily available at schools and Central Operations for students, staff and parents.

View PRSD's Policy 19 to learn more about PRSD's commitment to providing safe, caring. Welcoming and respectful learning environments. 

Gay Straight Alliance
Peace River High School
Google Meet meetings
Call 780-624-4221 or email peacehigh@prsd.ab.ca for more information.

Caregiver Support Group
Alberta Health Services
Zoom Meetings (free) - June 1 and June 15 from 7-8:30 pm
The group welcomes all caregivers of children, teens or young adults who may identify as transgender, non-binary, gender-non-conforming, or anywhere along the spectrum of gender diversity.
Call 780-538-5162 or email nicole.marshall@ahs.ca for more information or to register.
Institute for Sexual Minority Studies & Services
University of Alberta
ualberta.ca/ismss
Camp fYrefly – a free virtual conference - visit the website for more information open to youth
Peace Regional Pride Society
prpridesociety.ca
Posted on: Jun 18, 2021
Posted on: Jun 18, 2021
Posted on: Jun 15, 2021