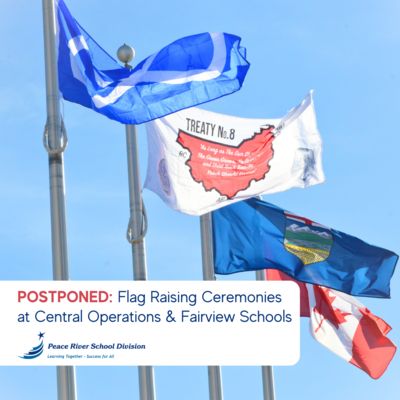 At this time, our flag raising Ceremonies in Grimshaw on May 18th and in Fairview on June 1st are being postponed.  In light of the losses experienced by many First Nations and Métis families in northern Alberta due to the wildfires, and the ongoing volatility of the wildfire situation, the decision has been made to postpone flag raising Ceremonies until next school year.
Ceremonial Elder Dustin Twin from Treaty 8 First Nations provided PRSD with guidance on this decision and concluded that it would be best to wait until next year.  Although it is hard to have to make the choice to wait, we know that our first priority has to be ensuring that we move forward in a way that best demonstrates our caring and respect for the communities around us.
We ask for your patience and will provide updates next year when we are in a position to make plans. 
Take care, stay safe.
Posted on: Sep 28, 2023
Posted on: Sep 22, 2023
Posted on: Sep 21, 2023