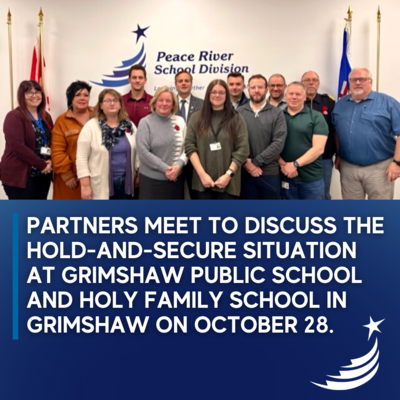 Partners meet to discuss the hold-and-secure situation at Grimshaw Public School and Holy Family School in Grimshaw on October 28.
(November 2, 2022) Senior administrators and Occupational Health and Safety personnel from the Holy Family Catholic Regional Division (HFCRD) and Peace River School Division (PRSD) held an After Action meeting with personnel from the Town of Grimshaw, Grimshaw Municipal Library, Mile Zero Multiplex and the RCMP. The purpose of the meeting was to review the incident, share what worked and what can be improved and to discuss various strategies should a similar situation arise in the future.
Read the full message HERE.
Posted on: Nov 27, 2023
Posted on: Nov 24, 2023
Posted on: Nov 23, 2023