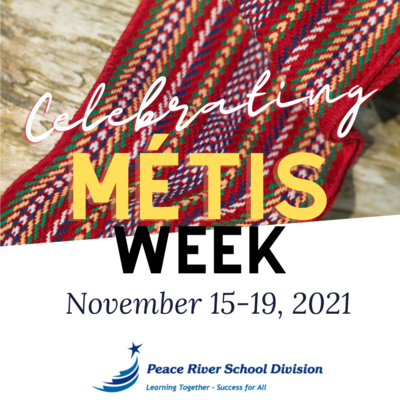 Each year, on November 16 Métis people in Alberta pay tribute to Louis Riel on the date of his execution. Louis Riel devoted his life to defending the rights of Métis people.
As a result of the execution of Louis Riel, Métis people across Canada were labeled as traitors and for generations many felt the need to hide their Métis culture and heritage. Today, Louis Riel is recognized as one of the fathers of Confederation and is widely admired by the Métis community for his dedication to Métis rights and culture.
In addition to recognizing Louis Riel on November 16, the Métis Nation of Alberta (MNA) has declared the week surrounding November 16 as "Métis Week".
What is Métis Week?  Métis Week is a week in which we celebrate the culture, history, and contributions of Métis people in Alberta and Canada. The week is devoted to learning more about the Métis who are now recognized as a distinct nation.
Throughout the week, PRSD students will be celebrating Métis Week 2021 by participating in a wide range of learning activities. Some schools are starting by participating in "Rock your Mocs" on Monday, a worldwide social media event where everyone is invited to wear their moccasins as a celebration of culture. Other activities planned for the week include the sharing of Métis facts during announcements, playing the Métis anthem in the morning, trying out the Red River jig, doing bead art, learning about traditional plants, learning the meaning of the Métis sash, trying their skills at soap carving, and making bannock. This annual event provides students and staff a chance to engage with and learn from the stories, history and culture of the Métis people.
Métis Week is a great opportunity to celebrate and highlight the history, culture and traditions of Métis people and their contributions to our country.
Posted on: Sep 28, 2023
Posted on: Sep 22, 2023
Posted on: Sep 21, 2023