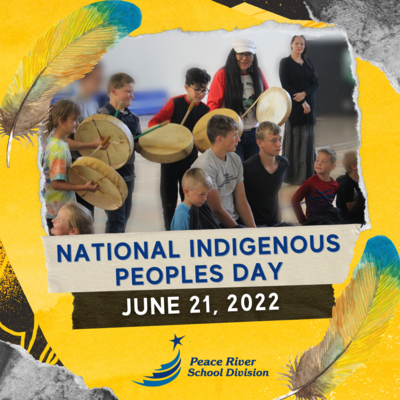 In June, Canadians celebrate National Indigenous History Month, which is an opportunity to honour the heritage, contributions and cultures of Indigenous peoples in Canada. In 1996, the Governor General of Canada, Roméo LeBlanc, proclaimed June 21 National Aboriginal Day, which was later renamed National Indigenous Peoples Day in 2017. June 21 is an opportunity for everyone to celebrate the cultural richness and contributions of First Nations, Inuit, and Métis peoples. 
The summer solstice is the day of the year with the longest light, and a day of spiritual significance for many people, which is why it's an ideal time to celebrate Indigenous peoples and their cultures.
This year, schools within PRSD will be participating in a variety of events that honour and highlight National Indigenous Peoples Day. For example, students at Springfield Elementary will be taking part in land-based teachings, sharing stories within their tipi, and coming together for an assembly. E.E Oliver students in grades 4-6 will have the opportunity to learn more about smudging, Nampa Public School is collaborating with FCSS and Nampa Museum to plan activities for students, T.A Norris Middle School will be hosting a Hand Games tournament, Hines Creek Composite and Grimshaw Public School will have cultural activity stations for students to explore and participate in, and Worsley Central School is planning a dreamcatcher workshop led by PRSD's new Board Chair, Delainah Walker.
On top of this, many of our schools have been hosting different events throughout June for Indigenous Peoples History Month, such as drumming and hand games at Dixonville School and an entire Indigenous Day at Menno Simons Community School, where students learned about Beaver culture and language. All our First Nations and Métis graduates will have the opportunity to participate in school-based Eagle Feather Ceremonies guided by an Elder in acknowledgement of their academic achievement. Inuit grads are also recognized during these Ceremonies.  
Honouring this month and day is one way PRSD honours our commitment to the process of Truth and Reconciliation.  
Posted on: Jun 23, 2022
Posted on: Jun 21, 2022
Posted on: Jun 20, 2022