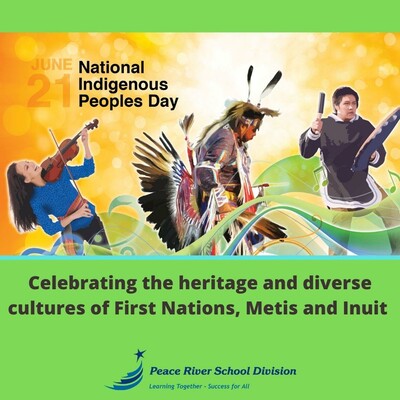 June 21, 2021 marks Indigenous Peoples Day and schools throughout Peace River School Division (PRSD) are celebrating.

"This important day, and the ongoing infusion of Indigenous based teaching and learning in our schools is crucial to impact change and support reconciliation" says Board Chair Darren Kuester. "This provides our students and school communities with a deeper understanding and respect for Indigenous culture, history and issues."
In PRSD, students are provided opportunities to participate in sweat lodges, the Blanket Exercise,, listening to the teachings of Elders, the Seven Grandfather Teachings and Aboriginal Studies courses for high school students. Students also participate in PRSD's hand-games competition, culture clubs, storytelling, and the Aboriginal Career Fair. Due to pandemic restrictions, we have not been able to host or participate in many of these activities however our schools have found creative ways to acknowledge residential school history on Orange Shirt Day, teach about the Métis during Métis week, and honour our local Indigenous veterans as a part of Remembrance Day activities. Also this school year PRSD grade one students have been learning some Cree, and PRSD Indigenous graduates are being celebrated with an Eagle Feather and the important teachings that accompany this high honor.

June 21 was first declared Aboriginal Day in 1996 by the Governor General and on June 21, 2017, Prime Minister Justin Trudeau renamed it "National Indigenous Peoples Day." June 21 was chosen because, for thousands of years, Indigenous people have celebrated their culture and heritage and give thanks to Mother Earth on the summer solstice which is the longest day of the year.
Posted on: Nov 21, 2022
Posted on: Nov 18, 2022
Posted on: Nov 4, 2022