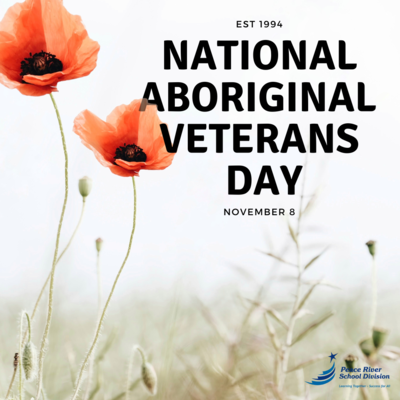 The Peace River School Division recognizes November 8 as National Aboriginal Veterans Day. Established in 1994 in Manitoba, this is a day to recognize and acknowledge the many contributions and sacrifices of Indigenous people in both Canada's war efforts and peacekeeping reputation.
Until 1995 when the first wreaths to honour Aboriginal veterans were laid at the National War Monument, Aboriginal veterans were not acknowledged in Canada during Remembrance Day Activities. Today, a national monument to Aboriginal veterans exists in Ottawa, honouring the more than 12,000 Indigenous people who volunteered in WWI, WWII and the Korean War.
In PRSD schools, the role of Indigenous people in Canada's war efforts and peacekeeping reputation is honoured during school Remembrance Day assemblies and in other classroom activities. Further, a group of students from Peace River High School will attend a ceremony at the Treaty 8 monument in Peace River on November 8 at 10:45 a.m. 
To learn more about Indigenous participation in Canada's war history, click HERE
Posted on: Nov 27, 2023
Posted on: Nov 24, 2023
Posted on: Nov 23, 2023