Go back to news listing
Message from Superintendent Adam Murray - Welcome Back & National Day for Truth and Reconciliation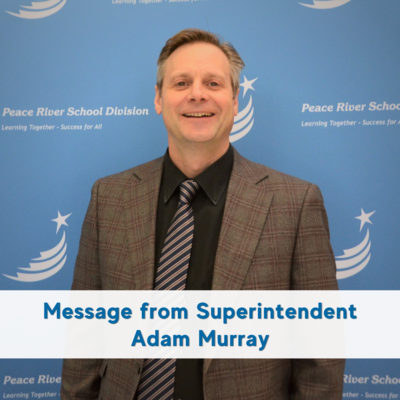 Welcome back to another school year!

As your Superintendent, I believe in the power of Public Education, and I see the benefits that our students experience when we all do our part to support them as they reach for their goals and dreams. This year, I am looking forward to seeing students become more confident in their skills while they challenge themselves in their studies and extracurricular activities. As a team, we hope to instill students with the courage and belief that they can accomplish anything they put their minds to.
Here at the Peace River School Division, we are committed to providing students with a safe and inclusive learning environment. Our educational staff continuously provide many opportunities for
students to participate in a wide range of authentic activities throughout the year that allow them to expand their knowledge and grow as individuals.
In the week leading up to the National Day for Truth and Reconciliation, all schools are engaged in learning activities to support healing and understanding between Indigenous and non-Indigenous peoples. Many families and schools are showing their support by participating in a fundraiser to support local residential school survivors and their families by purchasing Orange shirts through Sagitawa Friendship Society. Other activities vary school by school, but some examples include participating in the commemorative tile project as described on the Project of Heart website, engaging in Métis inspired dot art, and designing feathers with supportive messages on them to be shared with residential school survivors.
Furthermore, the Board of Trustees, the PRSD Anti-Racism Committee and other PRSD staff will have the opportunity to learn from Treaty 8 First Nations of Alberta more about the significance of Treaty relationships. This day of learning will deepen our understanding of the significance of the Board's initiative to honour the Treaty 8 flag and the Métis flag at all of our schools. We are looking forward to continuing flag raising Ceremonies this school year.
I'm excited to witness our students grow throughout the year as they are shown new experiences within their classrooms, and I am eager to facilitate these kinds of events for them. I believe our commitment to creating safe and inclusive learning conditions for all students will be further enhanced as we implement diverse educational opportunities for all.
I wish you all a wonderful 2022-2023 school year ahead!
Adam Murray
Superintendent of Schools
Posted on: Sep 22, 2022
Posted on: Sep 21, 2022
Posted on: Sep 20, 2022