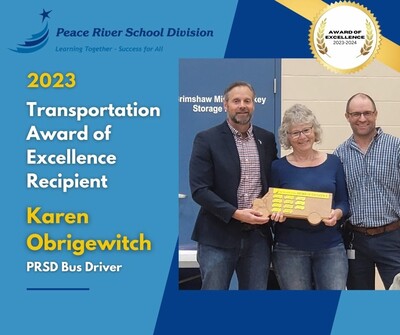 Congratulations to Karen Obrigewitch on receiving the 2023 Peace River School Division (PRSD) Transportation Award of Excellence.
This annual award is unique to the PRSD and celebrates the dedication and commitment of transportation staff. Eligible employees include bus drivers, mechanics and office staff.
Karen is actually a two-time winner of the Transportation Award of Excellence, having won the award previously in 2019. She currently manages Fairview bus route 82 but began her time as a school bus driver in 2000 with route 55, also in Fairview. Karen began as a substitute driver in October 2000 before she became a regular driver two years later. Then, after 20 years of regularly driving route 55, Karen moved to route 82 in January, 2022.
In gathering information for this award, the PRSD Transportation Department asked the public to weigh in on who they felt was most deserving of the recognition through online submissions. Some of the feedback the Transportation Department received regarding Karen included:
"She is the most compassionate and caring bus driver."
"Karen always has a smile on her face during pickup and drop-offs, toots the bus horn, and gives a friendly wave."
"[She] hands out treats, and she does not forget to have extras for siblings."
"Keeps her parents well-informed of issues and is always on time."
"Helps new drivers with issues they may be facing."
Karen was presented with the award during the Bus Driver Start-Up event held on August 23, 2023 at the Mile Zero Regional Multiplex. Superintendent Adam Murray and Transportation Manager Merlin Lee presented Karen with the award.
Other nominees for the award included Dustin Dube, Peace River bus driver, and Debbie Morrison, Fairview bus driver.
Posted on: Sep 28, 2023
Posted on: Sep 22, 2023
Posted on: Sep 21, 2023