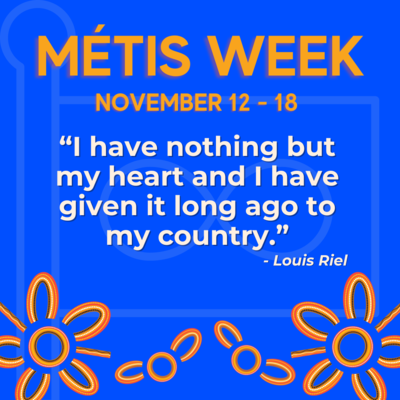 Students in all of our schools will celebrate Métis Week in a variety of ways between November 14 and 17.
Alberta has the largest Métis population in Canada with over 127,000 Métis people living in the province today. Alberta is also the only province in Canada with a recognized Métis land base. There are eight Métis settlements in Alberta.
Want to learn more? Scroll down to learn more about Métis week and what some of our schools are up to this week.
What is Métis Week?
Each year, people across Canada pay tribute to the Right Honourable Louis Riel by celebrating Métis culture during the week including November 16. Why November 16? This was the date of Riel's execution in 1885.
Who are the Métis?
Many Canadians have mixed Indigenous and non-Indigenous ancestry, but that does not in itself make them Métis or eligible to be registered as Métis. Métis is Alberta are Indigenous people who are related by kinship to, but culturally distinct from, other Indigenous people, possessing their own Michif language, customs, traditions and relationship to land.
What are our schools doing this week?
Rock your Mocs! Many schools will choose a day this week to encourage students to wear moccasins to school as a positive opportunity to celebrate tribal individuality, and to honour their ancestors and other Indigenous people.
Poster and colouring contests. Some of our schools will prepare artwork for a poster contest
Jigging Demonstrations and lessons
Métis finger weaving and dot art
Pemmican making. Students at TA Norris will have the opportunity to learn how to make this traditional, highly nutritious and portable food staple symbolically associated with Métis history and the fur trade era
To learn more about Métis culture, check out these culture cards from the Rupertsland Institute, which include information on the Métis flag, beadwork, fiddling, the sash, the red river cart, the red river jig, and traditional foods
Posted on: Nov 27, 2023
Posted on: Nov 24, 2023
Posted on: Nov 23, 2023