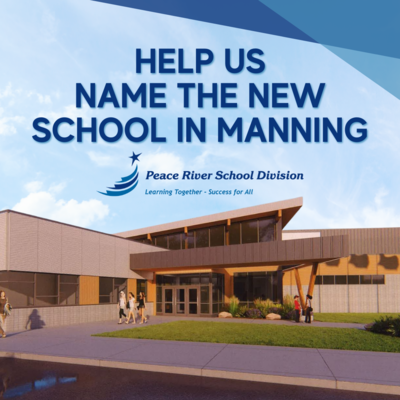 Now is your chance to help us name the new school in Manning!
PRSD is currently taking name suggestions for the new school until June 8, 2022.
Things to consider when submitting your name suggestions:
School name can be easily identifiable with the facility
School name does not conflict with the names of other facilities in the Division or surrounding districts
Name shall be appropriate in terms of copyright and trademark provisions
Name should reflect the geographic location or the local community
Consideration for possible abbreviations and nicknames associated with proposed names
Online submissions can be made here:
Manning New School Name Submission Form
Name suggestions can also be dropped off at Manning Elementary, Paul Rowe Jr/Sr High, Manning Post Office or mailed to:
Manning Elementary
Box 779
Manning, AB T0H-2M0
We look forward to hearing your suggestions!
Posted on: Jun 23, 2022
Posted on: Jun 21, 2022
Posted on: Jun 20, 2022