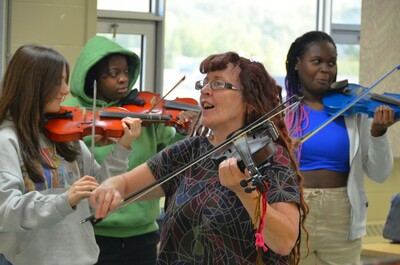 Linda Duford of the Kole Crook Fiddle Association in Hay River, NWT had the second-floor halls of Peace River High filled with the sound of fiddles on Monday, September 11 and Tuesday, September 12.
Duford is temporarily living in Peace River after she was evacuated from her home because of a wildfire in the Kakisa-Enterprise area of the Northwest Territories. While biding her time in Peace River, Duford has chosen to do a little bit of what she loves most -- teach youth the traditional art of Métis fiddling.
"It's very different from other types of fiddling or violin playing," she said. "The Métis style is very different and unique because it's taught by ear only…the fun thing about our way or style is that anyone can learn it."
The fiddle is considered an oral instrument in the Métis culture, meaning all the tunes played today have been passed on through the generations by ear, not through sheet music.
Following a quick overview of how to hold and use a fiddle, Duford began teaching the Grades 10 to 12 Aboriginal Studies students a Métis tune. She told them it was her goal that by the end of their time together on September 12, the students would be able to play the tune known as "Drunken Sailor" together.
"Normally I teach much younger kids and I teach them simple tunes. But because I have you for two days and you're older, I want to challenge you to learn an actual tune while I am here," she said.
The Kole Crook Fiddle Association is a group of fiddle-music lovers who came together to honour the memory of Kole Crook, a respected Métis fiddler who died in a plane crash on December 31, 2001. Today the society exists throughout the Northwest Territories as a group dedicated to reviving the Métis art of fiddle playing.
Duford will continue to teach fiddling to PRSD students through the rest of this week and into next week. She has confirmed visits to Grimshaw Public School on September 13, Springfield School on September 14 and 15, and tentative dates are set for TA Norris Middle School.
Posted on: Sep 28, 2023
Posted on: Sep 22, 2023
Posted on: Sep 21, 2023