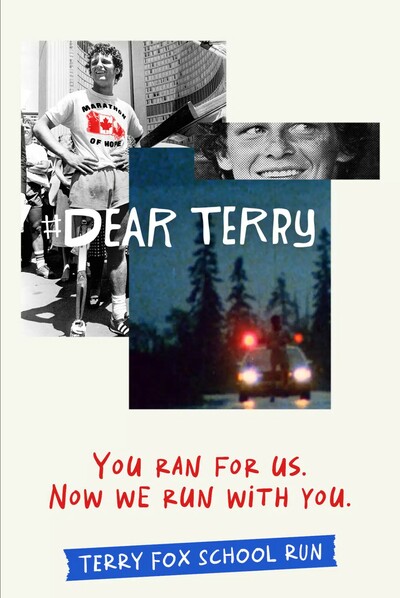 Each year students at Peace River School Division schools set out to fundraise for cancer research in honour of Canadian hero, Terry Fox.
From Port Coquitlam, BC, Terry was diagnosed at 18 years of age with osteogenic sarcoma, a bone tumour, which led to the amputation of his right leg 15 centimetres above the knee. It was his own encounter with cancer as a young adult that spurred his passion and determination to end the suffering cancer causes by fundraising for more cancer research.
On April 12, 1980, Terry, now aged 21, dipped his artificial leg into the Atlantic Ocean and began his Marathon of Hope.
Terry was quoted as saying, "There can be no reason for me to stop. No matter what pain I suffer, it is nothing compared to the pain of those who have cancer, of those who endure treatment."
While a secondary cancer diagnosis ultimately prevented Terry from completing his Marathon of Hope, he did achieve his goal of raising $1 from every Canadian. But, what's more, is the framework he set into motion for what Canadians across the country now know as the Terry Fox Run.
"When I started this run, I said that if we all gave one dollar, we'd have $22 million for cancer research, and I don't care man, there's no reason that isn't possible. No reason," Terry was recorded saying.
Since 1980, the Terry Fox Foundation has raised more than $850 million for cancer research. In 2021-22, the Terry Fox Foundation funded $14.1 million in cancer research, including $3.1 million for blood cancer research and $1.3 million for pediatric and young adult cancer research.
Locally, these numbers are important. Now and in the past, the PRSD has enrolled students who have also experienced the challenges of childhood cancer.
Once such student is Ezra Dyck, a Grade 2 student at Grimshaw Public School. Ezra is currently undergoing treatment for T-Cell Acute Lymphoblastic Leukaemia, which is a cancer of the blood.
Ezra received his own cancer diagnosis in August 2021 just a few weeks before he was scheduled to begin his Kindergarten year at Grimshaw Public School. As a result of his diagnosis and treatment, Ezra and his mother, Kristin Dyck, needed to relocate to Edmonton for the span of 10 months while Ezra endured two surgeries, 10 blood and platelet transfusions, 14 lumbar punctures, eight doses of radiation, two bone marrow aspirations, and 137 doses of chemotherapy.
And that was just the first part of his treatment plan.
After those initial 10 months, Ezra and Kristin were able to return home to Grimshaw where Ezra continued to take oral chemotherapy daily, and intravenous chemotherapy monthly. He remains on treatment today and is scheduled to complete his treatment in December of this year.
Ezra is currently doing very well. He has been in remission since December 2021 and enjoys going to school, playing with his friends and participating in Taekwondo. He looks forward to his end of treatment celebration at the children's cancer clinic at the Stollery Children's Hospital in Edmonton. This is when he will ring a bell, signifying the completion of his fight.
While chemotherapy does end for the childhood warriors who become survivors, the effects of cancer treatment on children can be long-term. Many kids who have undergone cancer treatment suffer side effects years after treatment ends, including neurological delays, heart problems, osteoporosis, and secondary cancer diagnoses, among others.
This is why fundraising for cancer research, which leads to better treatment plans, is so important.
Across the division, schools will participate in a variety of activities in honour of Terry Fox. Parents can expect students to come home in the coming days with instructions on how they can participate in their individual school's fundraising efforts.
Included below is a list of school events across the division.
Friday, September 15

Wednesday, September 20
Manning Elementary School
Worsley Central School
Thursday, September 21
Fairview High School
Dixonville School
Monday, September 25
TA Norris Middle School
Peace River High School
Nampa Public School
Wednesday, September 27
Hines Creek Composite
École Springfield Elementary School
Thursday September 28
Posted on: Sep 28, 2023
Posted on: Sep 22, 2023
Posted on: Sep 21, 2023