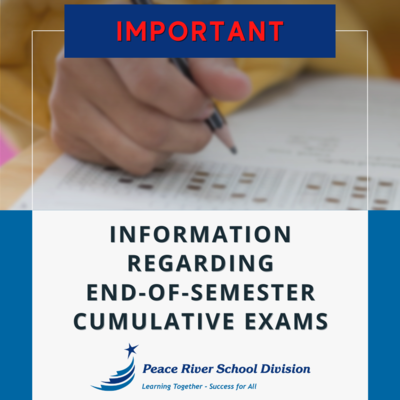 January 6, 2022- In the wake of ongoing challenges associated with the COVID-19 pandemic, Alberta Education has decided to cancel the administration of the End-Of-Semester One Diploma Exams, which had earlier been determined to be weighted at 10% of the students' final grade in each course for this year only.  Furthermore, the administration of PATs for those Grade 9 students doing semesterized programming has been delayed by a week, and there could be further announcements regarding PATs in the days ahead.  As part of our collective efforts to support students and their parents during these challenging times, the following decisions have been made regarding the administration of school-based end-of-semester cumulative exams in January 2022.  These decisions are aligned with Alberta Education's recent decisions regarding student participation in exams.
Decisions:
There will be no end-of-course final cumulative examinations in any courses for the end of Semester 1. This will include all  Grades 10-12 courses as well as semesterized Grade 9 courses for the two schools that offer this programming option.
For Diploma Examination courses, the school-based course work that is normally worth 70 percent of the course grade (that was earlier this fall determined to be worth 90% of the grade for this year only) will now be worth 100 percent of the course. As such, no additional work will be required of students beyond what would be normally required during the semester.  That is, with the Alberta Education decision to exempt students from writing diploma exams, staff will not add anything extra to the course expectations in response to the "diploma examination exemption" decision.
For courses that normally have a school-based cumulative final exam worth 30% (i.e., non-diploma courses), students' final grades will now be based on the work completed throughout the course. That is, the coursework will be worth 100 percent instead of the typical 70 percent value.
For Grade 9 PAT courses, the PAT results will not be used in the calculation of students' final grades. Although the division's AP 360 indicates that teachers can use the PAT results in generating students' final grades, this provision is being suspended for the current semester.  As such, the coursework will have a 100 percent value and teachers will make judgments about overall grades based on the evidence of the work completed during the semester.  
There will be no mid-year cumulative examinations for Grades 7-9 non-semesterized courses.
For Grades 7-9 courses that normally included a school-based mid-year cumulative exam, the value of this exam will now be redistributed to other important work that students do throughout the year to demonstrate their understanding of the essential course outcomes.
Notwithstanding the above noted directions in Item 1 regarding end-of-course cumulative exams, in very exceptional circumstances where it is felt that a student can possibly benefit from completing a cumulative project or written exam, the school principal has the authority to approve a cumulative assessment on an individual case-by-case basis, but only with the full support of the student and his/her parents/guardians.
This "exceptional case" option will only be exercised for the small number of students who may be able to salvage a course or improve a grade by being afforded this opportunity (for example, a student who was not as successful throughout the course who wants to complete a final cumulative project/exam to demonstrate that s(he) does have a good grasp of course content).  This exceptional circumstance flexibility can also be extended to those students writing Grade 9 PATs as part of their semesterized programming. 
In situations where a principal decides to offer the above-noted opportunity to students, their overall grades will not be negatively impacted by a poor performance on the cumulative exams. That is, if a student does write a final cumulative exam to improve his/her overall grade, but performs poorly on the exam, such poor performance will not negatively impact the grade the student had acquired prior to being given the opportunity to write the exam.  Likewise, Grade 9 PAT results can only be used if it improves the student's overall final grade in the course.  
Other Important Considerations:
For the last unit of work at the end of a course, teachers may choose to administer an end-of-unit assessment (paper and pencil test, open-book test, research project, video production, etc.) they deem appropriate, fair, and reasonable, but such an assessment will only assess the content from the last unit and will therefore be non-cumulative in nature.
With the suspension of cumulative exams, the instructional time for semester 1 has been extended to January 25, 2022, and teachers will continue to work hard to ensure students have every opportunity to submit outstanding work and to otherwise demonstrate what the know and can do in relation to the essential learning outcomes in their courses.  This is an important time for students to achieve a passing grade or to improve their performance in various courses to help ensure they are prepared to successfully progress to the next phase of their K-12 educational journey or to enroll in post-secondary studies.
We thank parents for their support in helping to ensure their children's overall success in semester 1.
Posted on: Aug 3, 2022
Posted on: Jul 27, 2022
Posted on: Jul 26, 2022