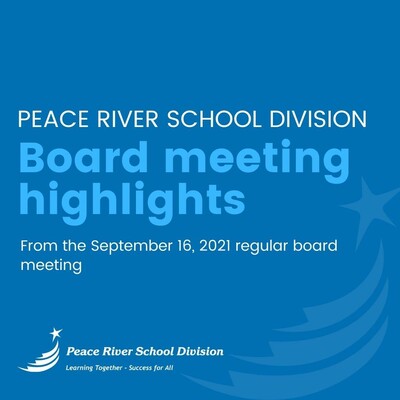 Superintendent reviews PRSD's updated School Plan Summary
Superintendent Adam Murray reviewed Peace River School Division's (PRSD) updated School Plan Summary while outlining changes in the plan as per the new restrictions announced by the Alberta government on September 15, 2021. Changes to the plan include the mandated masking requirements for all students in grades 4-12, all staff and all visitors to PRSD schools, the reimplementation of cohorting for grades kindergarten to grade six, physical distancing in common areas, a pause on indoor gatherings, the requirement for parents and visitors to make prior arrangements before attending a school, a pause on the rental of PRSD facilities, and spectator attendance at indoor sporting events is no longer permitted in order to reduce the health risk of students. PRSD will continue to follow the guidance of Alberta Health Services and the Alberta Education School Re-entry Plan. The plan, summary and other helpful COVID-19 response information are posted at prsd.ab.ca.

National Day for Truth and Reconciliation – Board votes that Sept 30th be a non-operational day
The board voted to designate September 30, 2021 as a non-operational day to honor and commemorate the National Day for Truth and Reconciliation. The day is intended to recognize and honour residential school survivors, their families and their communities. It also ensures that public commemoration of the tragic and painful history of residential schools remains a vital component of the reconciliation process. VIEW THE OFFIICAL MEDIA RELEASE

Board declares the last week in September "Truth and Reconciliation Week"
Trustees also declared September 27 to October 1, 2021 as Truth and Reconciliation Week in PRSD schools. "By dedicating a full week to Truth and Reconciliation, schools will have the flexibility to select a minimum of one school day within the week to recognize Orange Shirt Day while students learn about the history and legacy of residential schools. Other learning activities that support Truth and Reconciliation will also be encouraged" says Board Chair Darren Kuester.

Superintendent provides preliminary enrolment update
Superintendent Adam Murray provided the board with a preliminary update on student enrolment. As of September 16, 2021, PRSD's total enrolment is 3030, an increase of 52 students compared to June projections. Schools that have experienced the most notable increases include Oliver Elementary School, Fairview High School, Springfield Elementary School, TA Norris Middle School, Peace River High School and Red Earth Creek School. Superintendent Murray will present trustees with the official enrolment report at the October regular board meeting.

Anti-Racism Committee update
Vice Chair Crystal Owens, Ward Six Trustee Robyn Robertson and Ward Seven Trustee Delainah Velichka provided the board with an update on the work of PRSD's Anti-Racism committee. The committee met on September 8, 2021, along with facilitators from the Alberta Civil Liberties Centre, who are supporting PRSD's Anti-Racism Committee.  The ACLRC is a 38 year-old registered charity organization focused on human rights and civil liberties connected to the Canadian Charter of Rights and Freedoms, provincial and international laws. During the meeting, it was determined that sub-committees would be formed to gather input from various PRSD school communities to inform PRSD's Anti-Racism Committee. The purpose of the Anti-Racism committee is to examine the PRSD culture to determine sources of racism, and once identified; the committee will suggest and initiate anti-racism strategies and develop an anti-racism policy for the boards' consideration. Membership on the committee includes students, staff, trustees and management staff.
Treaty 8 and Métis Flag raising Ceremony at Grimshaw Public School
Holly Crumpton, PRSD Indigenous Education Coordinator, shared plans for the Treaty 8 flag and the Métis flag to be raised at the Grimshaw Shared School Facility on September 23, 2021. The flag raising Ceremony is a partnership between PRSD, Holy Family School, the Town of Grimshaw, Duncan's First Nation and Region VI Metis Nation to recognize the history and culture of the land and our collective commitment to reconciliation and inclusion for all.  The Ceremony was initially planned to be open to the public but, due to increased Covid-19 related illness in the province, attendees at the flag raising Ceremony will be limited to special guests and a limited number of students, staff and town representation.  All provincial health restrictions will be followed.  

Board thanks Board Chair Kuester and Trustee Richard Walliser for contributions to PRSD
The board of trustees extended gratitude to Board Chair Darren Kuester, and Ward Four Trustee Richard Walliser for their service to PRSD. Both Kuester and Walliser shared that they are not putting their names forward in the 2021 School Trustee Elections. Kuester is currently serving his eleventh year on the board and also served four years in the mid-nineties as Ward Three Trustee (Weberville, Dixonville, Deadwood, Manning and Hawk Hills).  Walliser has served on the board since October of 2019 as Ward Four Trustee for Peace River, Rural Peace River, Grimshaw and Shaftesbury.

PRSD Student Engagement Committee update
Trustees discussed the planning of meetings with PRSD's Student Engagement Committees for the 2021-2022 school year and directed management to schedule a meeting with both committees for January of 2021. PRSD has two student engagement committees, an Upper Elementary/Junior High committee and a High School committee comprised of student representatives from each school in the division. Trustees also requested that student representation from PRSD's Home Education Program "Peace Home Learning Connection" be included on both committees. "We are very eager to connect with our students" says Kuester. "These important meetings provide students with the opportunity to speak directly with board members, empowers them to be a part of their educational experience and represent their respective school communities. It promotes leadership skills, teamwork and allows the board to interact with, gather ideas from and learn from students in our schools" says Kuester.
Departmental Presentation – Assistant Superintendents provide overview of PRSD's new assessment tool
Jeff Thompson, Assistant Superintendent of Teaching and Learning, and Aleeta Ploc, Assistant Superintendent of Learning Supports, provided the board with an overview of a newly created "Inventory of School Success" assessment tool for PRSD. The assessment tool was created to track overall school success in literacy, numeracy and in creating an inclusionary and responsive culture.  "We are operating under the Collaborative Response mindset and framework, and by using this tool to consolidate essential information, we can make decisions to address challenges in the areas of literacy, numeracy, and inclusionary practices" says Thompson. "This will allow staff at the division level to more effectively differentiate supports to schools to help ensure they are all successful in utilizing effective strategies to advance student achievement and remain in line with the goals and strategies in the PRSD Education Plan." Ploc and Thompson shared that the Inventory of School Success will provide school administration with a continually updated snapshot of overall student progress, provides the division with important data to deliver targeted support to schools, and allows PRSD to share best practices throughout the division.  Ploc and Thompson also shared the 2021-2022 PRSD School Professional Development (PD) Plan with the board of trustees. They highlighted how the PD plan is an efficient and effective way to ensure that divisional and school-based professional development is aligned and intentionally supportive of PRSD's Education Plan. View PRSD's Education Plan here.
Trustees plan for Council of School Councils meeting
The board of trustees directed management to schedule a meeting between the board and PRSD's Council of School Councils on November 14, 2021. PRSD's Council of School Councils is comprised of parent representatives from each of PRSD's School Councils. The board of trustees meets with the Council of School Councils bi-annually to engage with, support and provide professional development opportunities for PRSD's School Councils.


Posted on: Oct 15, 2021
Posted on: Oct 15, 2021
Posted on: Oct 15, 2021